ESD Guidelines how to set up an ESD Protected Area (EPA)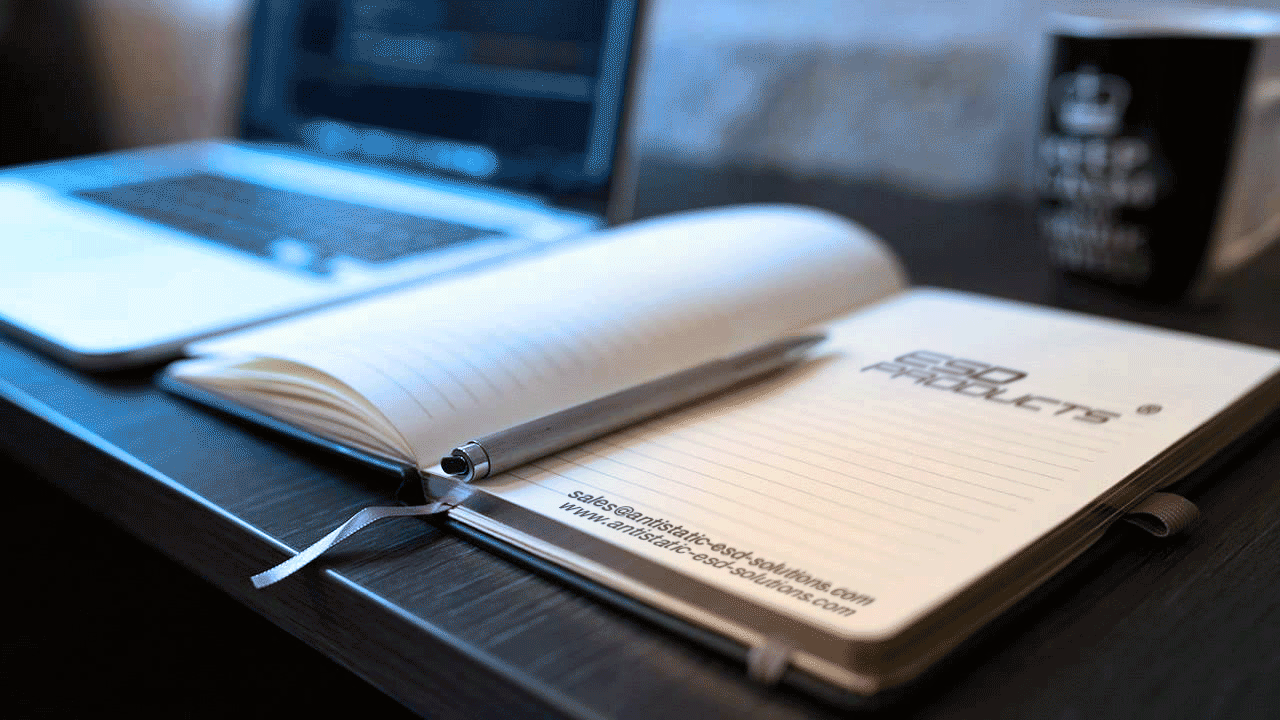 Most important aspects that you need to know to work ESD Safely
Protection against Static Electricity
(described in the ESD safety standards IEC61340 ESD Association)
TRAINING & EDUCATION ESD CONTROL IS YOUR FIRST PRIORITY!
AES - ESD SAFETY MEASURES - 01 1. SEMICONDUCTORS
AES - ESD SAFETY MEASURES - 01 2. PHARMACY
AES - ESD SAFETY MEASURES - 01 3. MEDICAL
AES - ESD SAFETY MEASURES - 01 4. ELECTRONICS-REPAIR
AES - ESD SAFETY MEASURES - 01 5. ELECTRONICS-LOGISTICS
AES - ESD SAFETY MEASURES - 01 6. ELECTRONICS-CONSUMER
AES - ESD SAFETY MEASURES - 01 7. COMMUNICATION
AES - ESD SAFETY MEASURES - 01 8. CHEMICAL
AES - ESD SAFETY MEASURES - 01 9. AVIATION
AES - ESD SAFETY MEASURES - 01 10. AUTOMATIVE
AES - ESD SAFETY MEASURES - 01 11. OVERVIEW-ARMY
AES - ESD SAFETY MEASURES - 01 12. OVERVIEW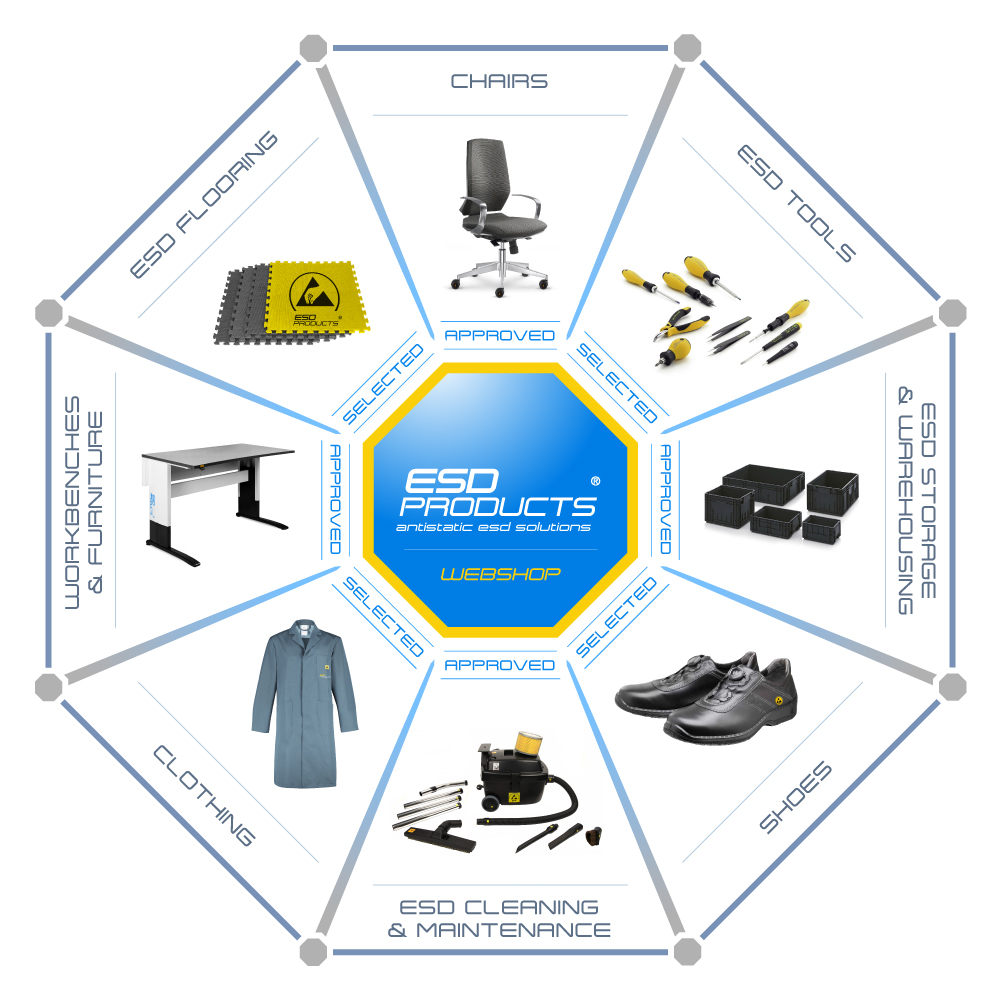 Preface:
Implementing ESD safe materials and products should be performed according a specific logical ESD strategy. Without these specific ESD procedures it has little to no sense to install ESD safe products.

Therefore we recommend to perform a pre audit described in the ESD plan of approach, on the next pages.

This ESD plan of approach, must be based on recent recordings of the company, an overview of the measures to be taken in the field of protection against static electricity, as well as the facilities have to be taken in this context. A distinction is made between the necessary, preferably directly implementing provisions and recommended facilities that can be realized on longer terms.
Commonly used terms:
ESD = Electro Static Discharge (ESD)
ESDS = Electro Static Discharge Sensitive (sensitive to static discharges)
EPA = ESD Protected Area (ESD-safe area)
Fc = Faraday cage
Pink Poly = plastic film products with a non-rechargeable (pink) coating (antistatic)
Shielding = packaging materials with a metallized (conductive) layer: These materials thus have a Faraday cage function.
ESD Protected Area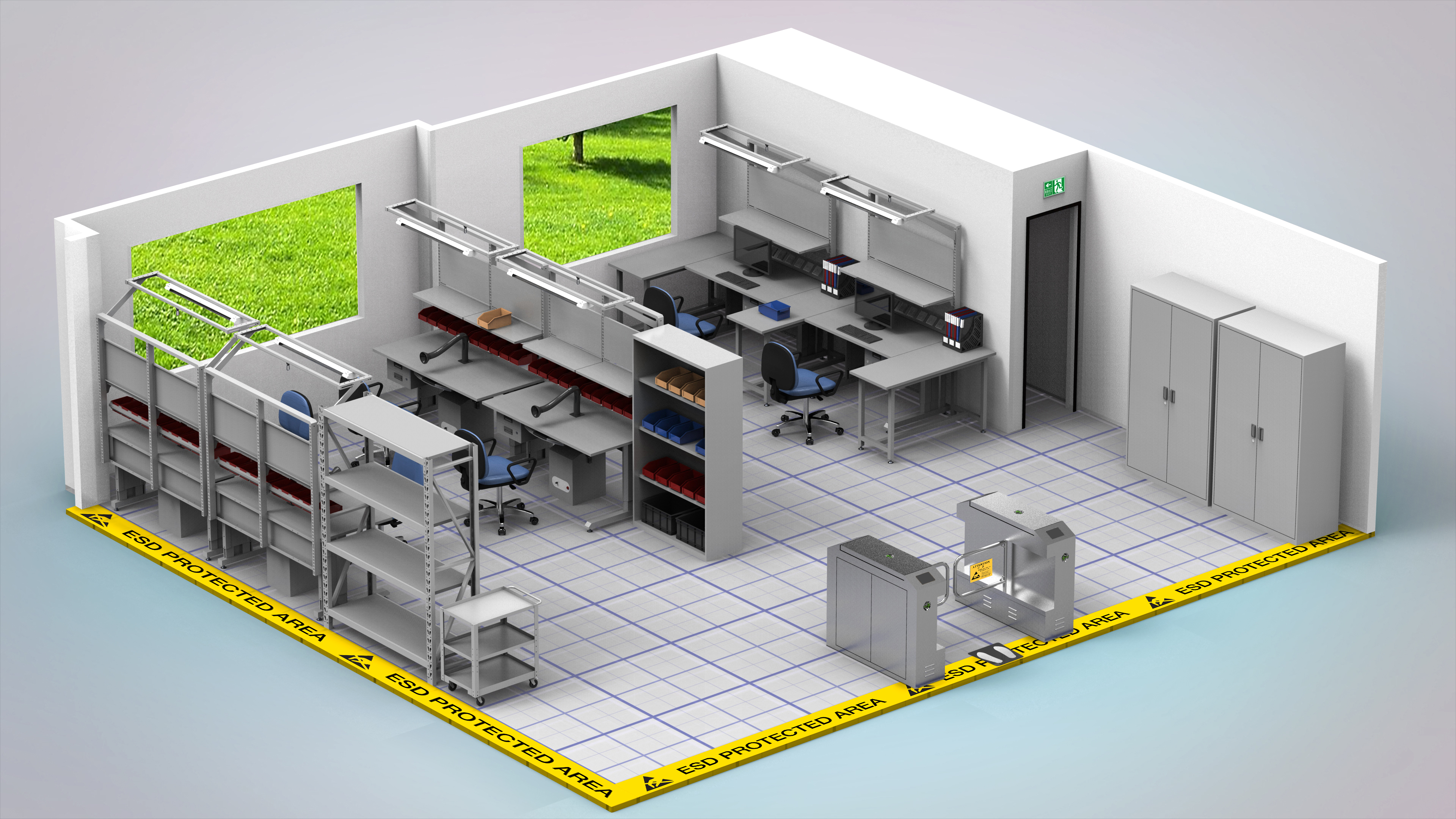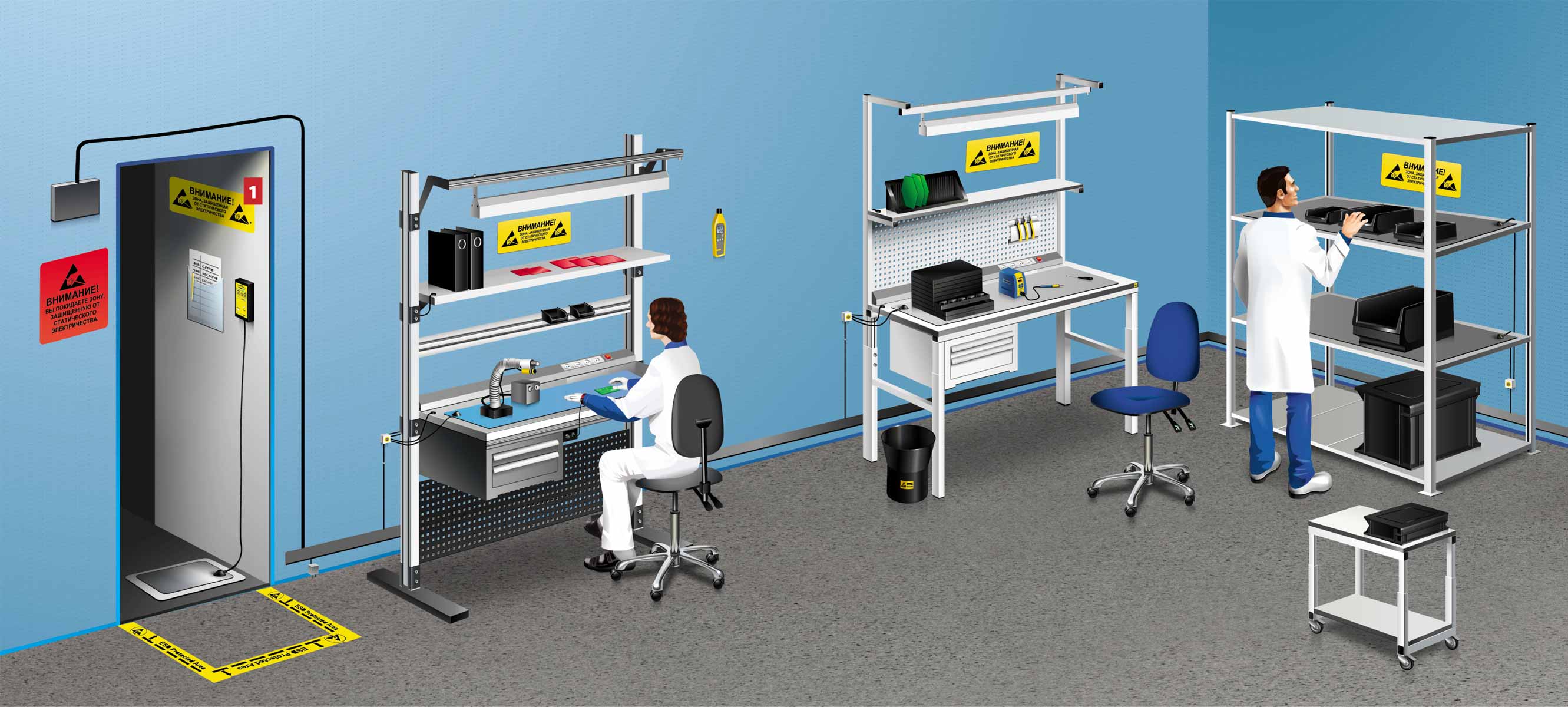 A. First step: Drafting your ESD Procedure:
First it should be clearly defined which zones are EPA and which are not. Access to these areas can only be provided to those who are aware and comply with the preventive prescribed measures. This requirement applies to everyone, private operators, management, temporary employees, subcontract, maintenance personnel, visitors, ...
Of general interest: correctly adjusting the relative humidity.
B. Second step: General ESD measures step by step:
1. All areas where ESD safe work is being performed should preferably be marked as such; using special ESD warning shields or stickers and / or floor marking tape, the EPA's can clearly be marked. Demarcation and defining the EPA (ESD Protected Area) all this to keep out and end off misunderstandings and unauthorized in these critical area(s) where ESD safe should be worked.

2. For controlling wrist strap, grounding cables, ESD shoes or heelgrounders, it is necessary to provide and install a wrist-band/shoe-test station, in a prominent place, preferably at the entrance to the EPA. Also the wristbands and grounding cables of the field service kits from any field staff can be checked here. It is recommended that the staff fill in each check, with date and initials, on the checklist hanging next to the tester.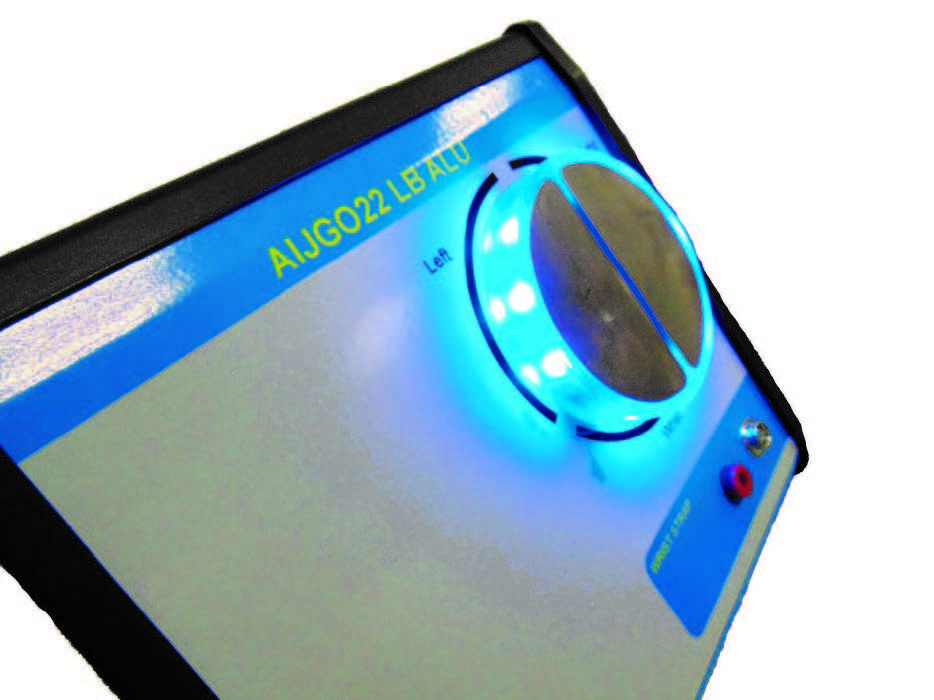 2.a. Access control: before entering the EPA wristbands, grounding cables and footwear always should be checked. Possible access may or may not be linked to an ESD Access System.
3. Footwear: The same principle applies to us humans. We want to enter the EPA we need to check our ESD safe shoes The range is very extensive and we make a distinction between ESD safe and ESD-safe safety shoes. When working ESD safe, consistently checking is really required, this is why you have to check your footwear and wristbands daily before entering the EPA.

4. Wearing ESD clothing is strongly recommended so charges accumulated by motion, and therefore friction of our normal clothes, can be shielded from the sensitive components.
Why ESD clothing is so important? (watch video)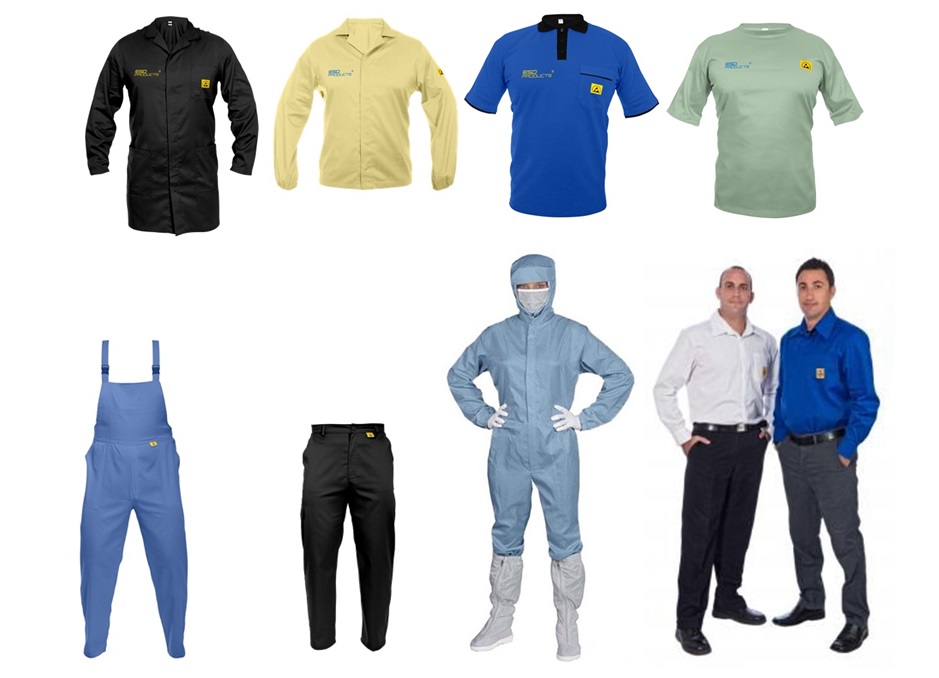 5. ESD safe Workbenches provided by BASS-ESDproducts. All of these tables are to be connected via a resistor of 1 MOhm coupled to ground/earth.

6. Grounding / grounding: The ESD standard IEC 61340-5-1/5-2 says that when one is performing his job sitting a wrist strap to ground always need to be worn. It is obvious that we also have to connect our workbenches and shelves to earth. We do this with grounding plugs and grounding cables (these are included in the table).

7. Tools: Certainly not unimportant because with this tool one comes closest to the ESD sensitive components, so it is strongly recommended to use ESD safe tools.
8. ESD Chairs: Here you have a wide choice from our collections that give us the assurance and guarantee that the seats are really ESD safe.

9. Trolley's: For transporting goods within the EPA, it is important they don't generate static charge caused by friction of the wheels.

10. All ESDS components and printed circuit boards should be stored throughout the company and transported in an ESD-safe packaging with Cage of Faraday function; this may be in the type of a static shielding bag or a container of conductive plastic. The shielding bags can be sealed with. ESD with special warning stickers.

11. Pink poly products, such as the rose packing bags and bubble foil, are not rechargeable (antistatic). These products however have not KvF function and are intended primarily as a non-rechargeable or disposable packaging for temporary use only used in the EPA. The anti-static coating in the plastic evaporated namely, under the influence of UV light, after a period of time, and loses its effect (the typical pink color is in this case becomes more pale).

12. The first and most important step in ESD safe working is to make sure that there are NO static materials in the EPA are present. The use of static rechargeable (packaging) materials, coffee cups, plastic folders, trash bags, etc., in an EPA should be avoided whenever possible.

13. To ensure an adequate internal control it is strongly recommended to provide the ESD coordinator within the company off a surface resistivity meter and an electrostatic field meter.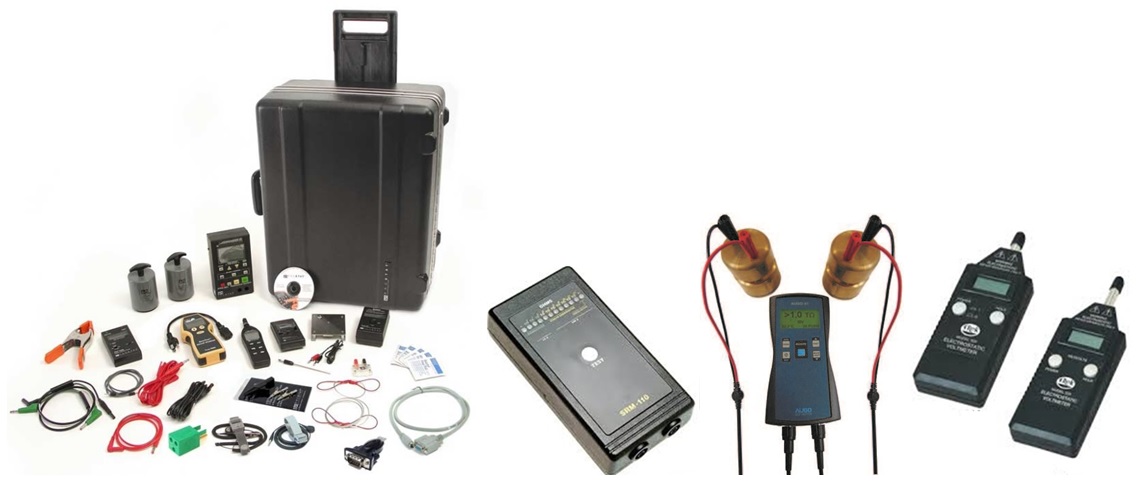 14. Floor: This is provided and should conform to EN / IEC 61340. In case of optimization at standing work ESD anti-stress mats can be offered. The maintenance of an ESD floor should be done with appropriate detergent aims to prevent the floor to become insulation by using ordinary cleaning agents.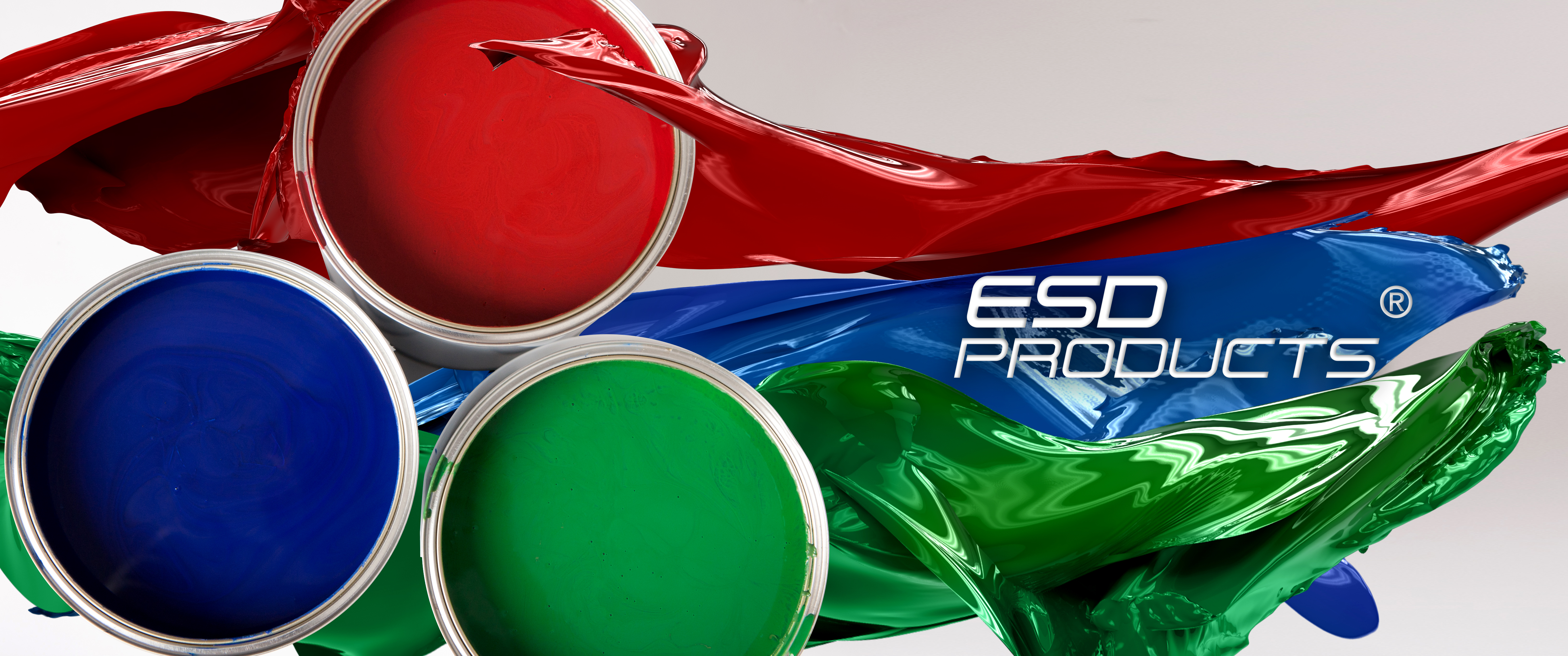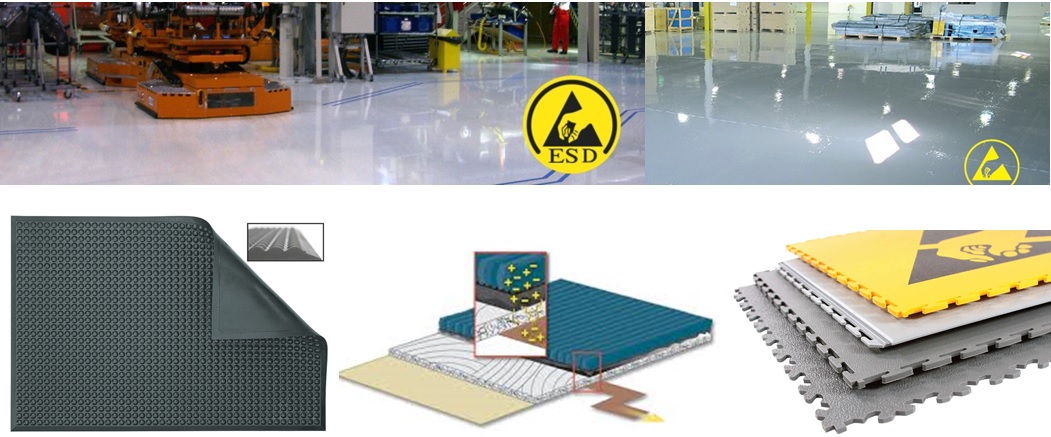 15. Warehousing and stock must be stored in proper packaging and custom carrying racks or cabinets. The packaging of ESD sensitive components must be done in the right packaging Pink bags do not protect against static charges and may only be used within the EPA. Sensitive components (without housing) which will transported outside the EPA should be put in Shielding bags or Moisture barrier bags (if they are susceptible to oxidation).

16. ESD Cleaning & maintenance: The installation of an ESD Protected Area (EPA) is very important and requires expertise. Even more important, and all too often overlooked, is the maintenance of these ESD protected areas. ESD conductive (dissipative surfaces), floor as well as table, should be treated with appropriate ESD-cleaners and cleaning utilities to assure these conductive properties are preserved. The use of ESD vacuum cleaners according the ESD Standards is of utmost importance not want to cause damage to ESD sensitive components within the EPA.

17. In addition taking the necessary ESD measures, it is important that all personnel, directly or indirectly, in contact with ESDS products is well aware of the phenomenon of ESD. B.A.S.S. ESDproducts provides special ESD courses and training which explains and shows the dangers of dealing with electrostatic charges, how you can recognize and protect ESDS devices getting damaged by ESD.
INTERACTIVE ESD TRAINING ACCORDING THE IEC61340 STANDARD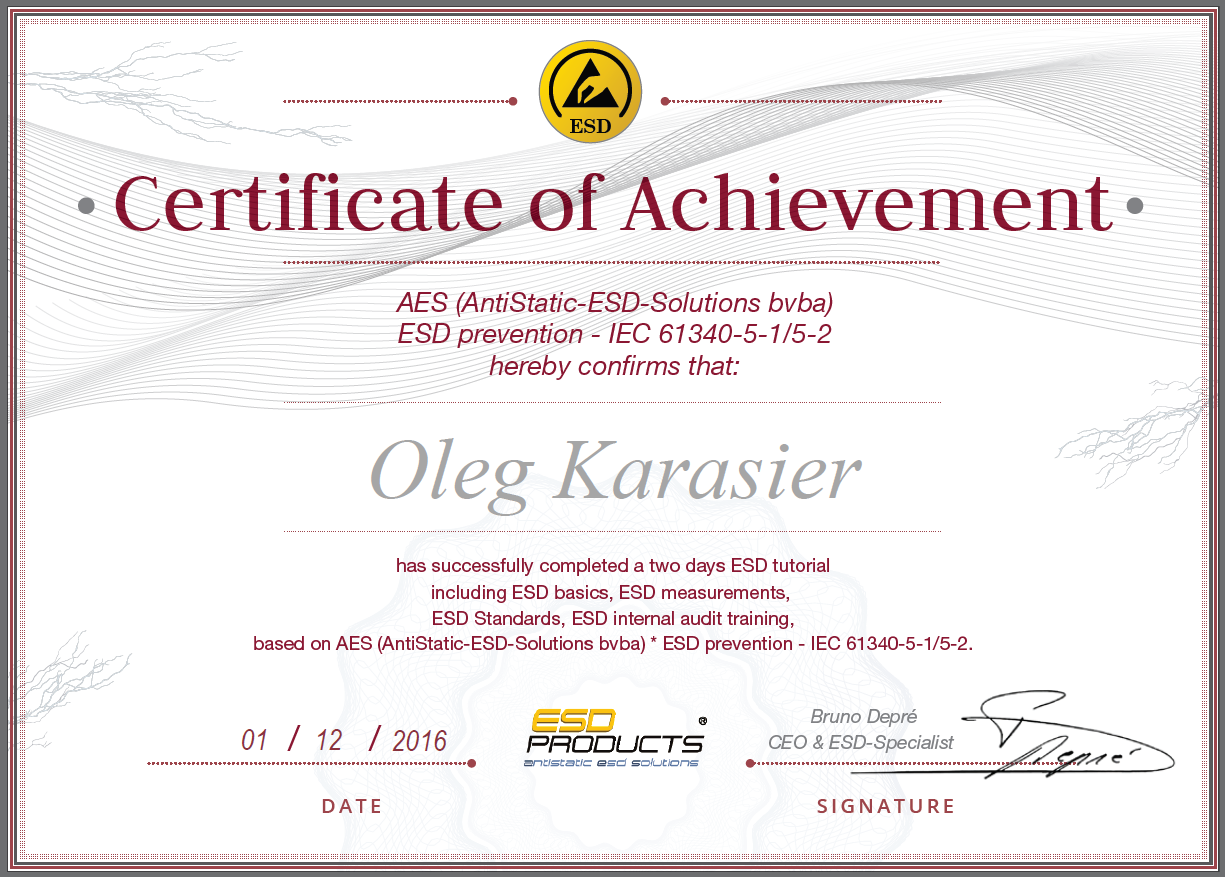 Getting familiar with the phenomenon "

Electro Static Discharge (ESD)";

Identifying the damage that ESD can cause;

Learning methods to prevent ESD damage;

History;

ESD, what is....

Electrostatic charges;

Electrostatic discharges;

ESD damage;

ESD damage models;

How to prevent ESD damage;

Why now also aggregates?

Trends.
C. How far should you go?
You certainly do not have to work in a cleanroom to work ESD safe. However, there are a number of measures which should be taken care of:
1. The EPA work has been done and will therefore be contaminated. It is very important to clean the ESD floor in a proper manner by using the correct cleaning products. It's better (safer) just to use only water to mop the floor or use an ESD-safe detergent.
2. Clothing: An item that is all too often neglected but is a very important part in your link of ESD safe working. This ESD clothing will ensure that electrostatic loads on your body and clothing will be shielded from your sensitive components.
How far should you go in here.. this will have to show your risk analysis. Here is a list of extras that you can implement over time:
Overview ESD-Products:
ESD-Test / Measuring Equipment.

ESD-Workstation Products
"Measuring is knowledge"
"ESD standard" - "don't live by them, implement them"
* IEC 61340-2-1 Measurement methods - Ability of materials and products to dissipate static electric charge.
* IEC/TR 61340-2-2 Measurement methods - Measurement of chargeability.
* IEC 61340-2-3 Methods of test for determining the resistance and resistivity of solid planar materials used to avoid electrostatic charge accumulation.
* IEC 61340-3-1 Methods for simulation of electrostatic effects - Human body model (HBM) - Component testing.
* IEC 61340-3-2 Methods for simulation of electrostatic effects - Machine model (MM) - Component testing.
* IEC 61340-4-1 Standard test methods for specific applications - Electrical resistance of floor coverings and installed floors.
* IEC 61340-4-3 Standard test methods for specific applications - Footwear.
* IEC 61340-4-5 Standard test methods for specific applications - Methods for characterizing the electrostatic protection of footwear and flooring in combination with a person.
* IEC 61340-5-1 Protection of electronic devices from electrostatic phenomena - General requirements.
* IEC/TS 61340-5-2 Protection of electronic devices from electrostatic phenomena - User guide.
EPA Check List NA OK Remarks
Define responsibilities / contacts;

Train the managers and contacts;

Define the ESD sensitivity;

Analyze the space and surroundings;

Define the required materials;

Contact suppliers;

Release the new materials ;

Order materials;

Install EPA;

Release the EPA;

Train the staff;

Integrate the EPA in the audit plan;

Perform corrective measures.
ESD MATERIAL Check List NA OK Remarks
ESD Shoes;

ESD Foot Straps;

ESD Clothing / Garment;

ESD Wrist-straps;

ESD Grounding cords;

ESD Flooring;

ESD Flooring-mats;

ESD Workbenches;

ESD Table-mats;

ESD Field service kit;

ESD Packaging;

ESD Container bins

.
In need of help, you have questions,... don't hesitate, ask Mr. K.L.R.Bruno