Antistatic ESD Workbenches | ESD Furniture | Control Room Consoles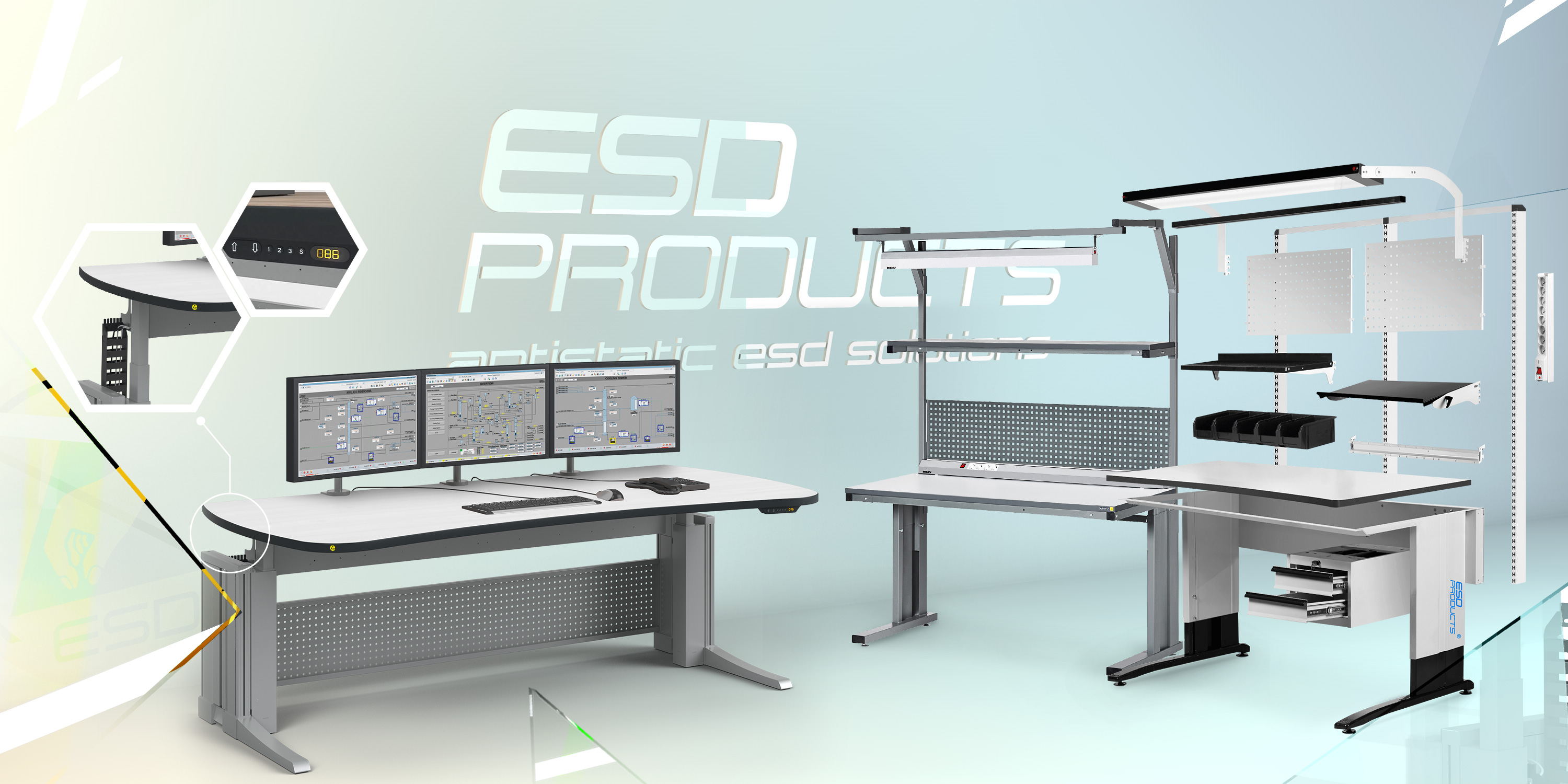 Antistatic-ESD-Solutions® * ESD prevention - IEC 61340-5-1/5-2
is one of the rare Total project organizers managing and controling static electricity,
co-operate with market leading manufacturers of ESD-workbenches and anti-static work stations offering Workspace Solutions.

All ESD workstations are in height adjustable.
Some ESD workbenches are height adjustable, even automatically adjustable worktables are part of our complete range ESD furniture (Control Room Consoles).
Designed and built to high specifications, AntiStatic-ESD-Solutions®-worktables and other ESD furnishings are used
in a wide variety of technical and manufacturing environments, including: Industrial, Commercial, Military, Government, Medical and ...
ESD Protective Furniture, in particular, Antistatic-ESD-Solutions ®
has a long association with electronic manufacturing, providing manufacturers with
ESD workbenches, ESD safe cabinets, ESD-trolleys and ESD-products
that minimize the risk of ESD-hazards and improve productivity.
Electronic Components or assemblies at risk from electrostatic discharges (ESD)
are among those sensitive elements which can be destroyed or damaged if the permitted levels of current or impact energy are exceeded.
As a rule, these are always semi-conducting components and most are also thick- and thin-film construction elements.
This type of construction element is mostly damaged through human mishandling.
A human-being can charge several thousands of volts just by walking.
A discharge can be felt by humans from approximately 2000-3000 V,
a current which is already well above the 'tolerance level' of many ESD components.
Before buying or implementing ESD safe products one needs implementing an ESD safe procedure according to the
ESD standards IEC 61340 or ANSI S2020 which is the foundation of
ESD preventive protective work and a greater guarantee of quality assurance.
Besides our Anti-Static conductive ESD Workstations we offer an extensive range of
Antistatic ESD Chairs, Antistatic ESD Cleaning & Maintenance, Antistatic ESD Clothing, ESD Shoes ESD Footwear,
Antistatic ESD Flooring & Antistatic ESD Table Mats, ESD Safe Packaging, ESD Personal Grounding Materials,
Anti-Static ESD Protective Storage & Warehousing Systems EPA, ESD Storage Boxes,
ESD Test & Measuring Equipment, ESD Trainings, ESD Support & ESD Audits.
All ESD workbenches fulfill the IEC 61340 standards